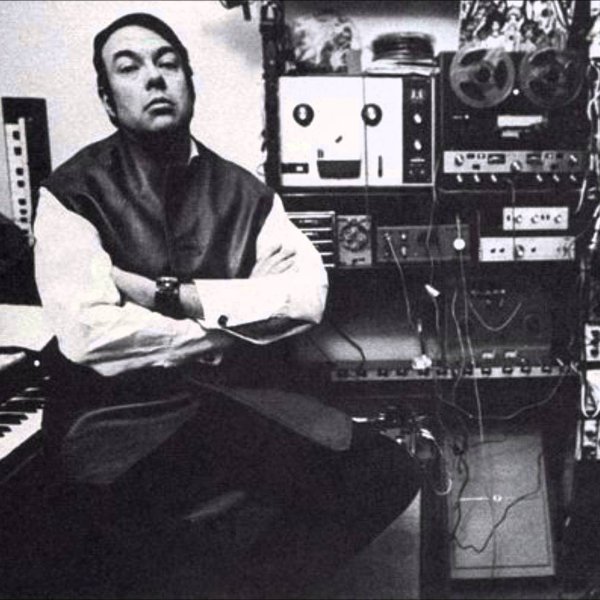 Bruce Haack was born on May 4, 1931 in Nordegg, Alberta, Canada. It's said that from an early age, he had an interest in music and would often play melodies on his family's piano. He was apparently able to hear songs and replay them from memory, a very impressive ability that he was remembered for.
Skipping ahead in his life, while in college Bruce and his band, The Swing Tones, would perform at local venues. They would play modern, old-timey music and also Ukrainian Folk music, which introduced Haack to eastern musical motifs and themes. He continued to play with his band (until they eventually stopped doing shows) and collected records throughout his young adulthood.
Seeking to improve his musical abilities, Bruce applied to the University of Alberta's music program, but was rejected due to poor notation skills. Instead, he went to Edmonton University where he finished with a degree in psychology that later helped him with his song creation. After this, Juilliard School, a private performing arts conservatory in New York City, offered Haack the opportunity to study with composer Vincent Persichetti. Thanks to a scholarship given to him by the Canadian government, he was able to move to New York to work with the composer. There is where he met one of his closest friends, Ted Pandel. However, after 8 months of attendance, Bruce decided to drop out of the school, not liking its restrictive nature. Bruce hated any sort of restriction on his work, which can be observed in his later work.
When the 60s rolled around, interest in electronic music and synthesizers started to grow, which borough Bruce into the spotlight. He appeared on a few TV shows of the time like I've Got a Secret and The Tonight Show starring Johnny Carson. Often he performed his music with his friend, Ted, on their synthesizers.
Working with dance teacher Esther Nelson, Haack started to make open minded electronic children's music. During this time he also started his own record label with Ted, Dimension 5 Records. Over the next few years he released his albums, Dance, Sing, and Listen (1962), Dance, Sing, and Listen Again (1963) and Dance, Sing, and Listen Again & Again (1965). The music Bruce produced at the time was described as "otherworldly" which was probably a product of his use of synthesizers and sampling.
Haack's music became more mainstream as his manager, Chris Kachulis, managed to get his music put on ads for Parker Brothers Games, Goodyear Tires, Kraft Cheese, and Lincoln Life Insurance. These ads helped Bruce win two awards for his music. He still continued to promote his creations on TV, most notably appearing on Mister Rogers' Neighborhood in 1968. Late that year, he released The Way-Out Record for Children. After being introduced to acid rock by Kachulis, Haack started to change his style, becoming more rock influenced. In 1969 he released his first work with this style, called The Electric Lucifer. This album ended up being picked up by Columbia Records, which was his major-label debut.
At the start of the 70s, Haack's musical horizons continued to expand. He continued to make rock inspired work, which can be seen in his 1971 album, Together. Bruce also continued to make childrens albums like Dance to the Music (1972), Captain Entropy (1974) and This Old Man (1975). After moving to West Chester, Pennsylvania, he proceeded to focus more on his children's music, releasing Funky Doodle and Ebenezer Electric (both in 1976). In 1978, Bruce made two albums that were not released at the time, Haackula and The Electric Lucifer: Book II. Haackula was much more controversial than his other work. The album was darker than his previous work and dealt with more adult topics, which lead to it being blacklisted. After this, Bruce released one of his last big projects, Bite (1981). This album was similar to Haackula in its lyrics and more dark tone. Haack's struggling health slowed Dimension 5's musical output in the 80s. However, the label was still kept alive by Nelson and Pandel, who would publish children's song books.
In 1988, Bruce Haack died from heart failure after years of health issues.